Manor Lords - Do not be afraid, for I am with you
•
2023-11-22 09:00:00
•
3 min. Read time
•
0 Comments
Oh yes... Manor Lords.
A title that is perhaps too good to be true? If you consider that "Greg Styczen" or "Greg" is essentially the only person behind this little feast for the eyes, you might quickly lose faith in one or two triple-A titles.
Around a year ago, when the Steam Next Fest got underway in October 2022, Manor Lords also saw the light of day with a first playable demo - at least an early version. Johannes from our team immediately fell in love "I've never invested over 20 hours in a single demo[...]".
Realistic and organic medieval city building with a survival aspect, beautiful graphics, interregional development of territories and, on top of that, a military system that is very reminiscent of the Total War series. The fact that the setting here is also colorful and not (only) gray, dark and wet makes every medieval fan's heart beat faster. What more do you need?
Manor Lords offers a gridless, free-form city-building experience inspired by the organic growth of medieval cities. "Inspired" is an essential component here, as one cannot expect a game to fully reproduce historical authenticity, precisely because Manor Lords is also not tied to a specific century, but is characterized by 11th-15th century Europe. Nonetheless, Greg is working diligently with the relevant experts to find out everything that is possible and feasible. This is very noticeable and appreciated. Attention to detail is a given - as far as the eye can see. Snapping tools increase the ease of planning, and historical influences shape the general development. This is where the title sets itself apart from most of the other games that are largely based on the classic grid system. It is the grid-free building that makes this natural beauty look so great and expands creative boundaries immensely.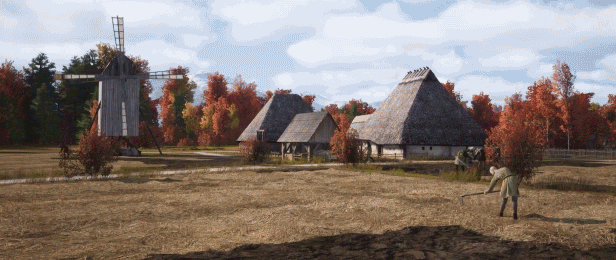 The attention to detail immerses players in a medieval fiefdom, with realistic activities such as plowing fields and herding sheep. Dynamic elements like changing seasons and external threats provide additional depth. The aim is to create authentic medieval battles, with realistic elements such as unit formations, morale, flanking, fatigue and weather. Strategic placement of troops is crucial, so even smaller forces can triumph with the right command. The game plans to include cavalry, fortifications, gunpowder and siege engines.
In addition, on the technical side, motion capture in conjunction with 3D scanning dramatically increases the realism and immersion of the game, especially in depicting natural and authentic combat movements. Manor Lords uses Quixel megascans and hand-crafted photogrammetry to speed up development and improve visual fidelity, contributing to a visually stunning and detailed game world. Destruction simulations, which are pre-calculated in Houdini, provide a detailed visual representation. The game explores the possibility of integrating real-time chaos physics for more realism in the future.
Manor Lords manages to create something that (unfortunately) can no longer be taken for granted today: fun. Fun while building your settlement, for Manor Lords such a basic and yet so successful thing.
This title has the potential to become one of the best building strategy games and teaches the really big players a lesson at the same time. Recently there is finally an official release date for the 26th of April 2024 with a direct start in Early Access. Johannes couldn't be happier: "Thank God it's a Friday. The weekend has already been saved!"